John Fogerty 3-12-85: From Despair To Triumph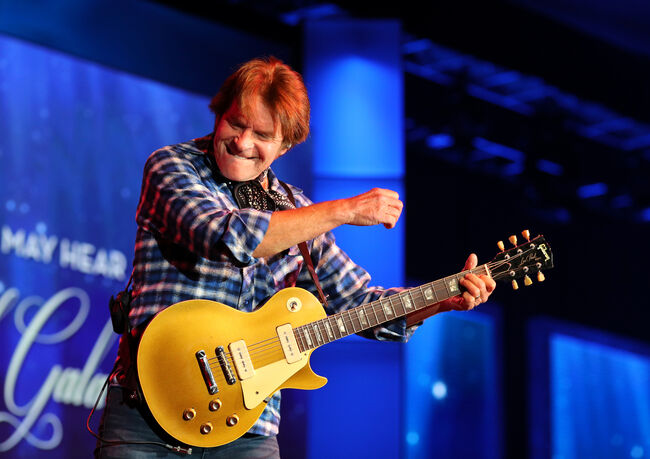 When an album goes 'Gold' and 'Platinum' on the same day, for sales of 500,000 copies and one million copies respectively, it means that the album sold quickly enough to reach a million sales in a single day. There was no length of time between the sales awards; it did not take another four days, for example, to move from the 500,000 mark to 'Platinum.' That happy occurrence came true for John Fogerty on this day in 1985 when his solo Lp "Centerfield" flew out of the stores on the heels of his hit single and MTV video "The Old Man Down the Road."
The sudden landslide of success recalled Fogerty's hit-making days in Creedence Clearwater Revival between 1968 and 1972 when that group would notch twelve Top 40 hits, including five #2's! In that same period, CCR would see five of its singles and 7 albums go 'Platinum.' The "Chronicle" hits collection has sold 10 million.
In the singer and guitarist's 2015 memoir "Fortunate Son: My Life, My Music" John Fogerty says that the immensely-popular California band folded in 1973, mainly because Fogerty missed his brother Tom's presence in the group (who left for a solo career) and he had become disenchanted with the two remaining members. Compounding the situation was the band's label Fantasy Records and its boss Saul Zaentz, who, Fogerty stated, enforced a ruinous contract that the young musicians eagerly signed at the beginning of their career. Despite writing 99% of Creedence's music (and all of its hits) John Fogerty shared in a split with the band and label, suing the label repeatedly to obtain royalties due him.
When the group split, Fogerty found that Fantasy's quota of the band's contracted songs had not been met, despite the millions and millions in profit that the label had raked in, and he would still be bound to Fantasy as a solo artist. Technically, so would the other members, but Fantasy wasn't interested in musicians who couldn't write music that sold, so they were released. John Fogerty would be solely responsible for making up the difference.
In protest to the unfair circumstances, the legend refused to play his Creedence songs in concert for years, and disappeared from view huddling with his family and having little to do with music at all. But after an initial solo album for Fantasy, Fogerty managed to extricate himself somewhat from his difficult position by reluctantly signing over more of a financial stake to his songs to the label. He signed with Warner Brothers Records and immediately found the new situation immensely liberating. His creative muse returned and the new songs came together throughout 1984.
Two of those songs, "The Old Man Down the Road" and "Rock And Roll Girls" would become Top 20 singles and "Centerfield," inspired by Fogerty's baseball game experience in San Francisco's Candlestick Park, would become no less than a national treasure. In fact, Fogerty and the song would be inducted into the Baseball Hall of Fame in 2010, the only musician to have that honor. The album would go to #1 on March 23, 1985 and sell over two million copies. It was a long journey from night into day, but Fogerty hung in there long enough to send his musical career into years of extra innings, and in 2018, that game is still underway.
John Fogerty's autobiography, is highly recommended.

Carter Alan
Hear Carter Alan every weekday from 10am - 2pm on 100.7 WZLX
Read more