5 Tom Petty Albums That You Should Own
On this October 2, the one-year anniversary of Tom Petty's death, here are five of the iconic rocker's studio albums you have to have in your collection – no matter what format. So, download away, or go buy a cassette in that yard sale down the street; whatever it takes, because these are indispensable releases. We added a runner-up too!
#6 (Runner-up) "Hard Promises" (1981)
This was Petty's highly anticipated follow-up to his breakthrough album "Damn the Torpedoes" a year and a half earlier. Chronologically, this was TP & THB's fourth release, and it was filled with good songs and a couple singles – "The Waiting" and "A Woman in Love (It's Not Me)." The chunky rhythms of "Nightwatchman" made the song an FM radio favorite as well as "Insider," a duet with Stevie Nicks. Petty's label planned to raise the price of this album to $9.98, a dollar more expensive then the common price for a record in 1981. The newly-crowned Platinum artist flexed his new clout to protest and the label backed down.
#5 "Into the Great Wide Open" (1991)
This album reunited the Heartbreakers with Petty after he recorded his first solo album "Full Moon Fever." After his huge success with the previous release, Petty retained its producer, former ELO front man and Traveling Wilburys member Jeff Lynne to helm the new effort. The pairing once again proved fruitful, Lynne coaxing the band into stellar performances of some great songs that he wrote in collaboration with Petty. The video starring Johnny Depp helped drive the single "Learning to Fly" into the upper reaches of the charts. The album song more than 2-million copies.
#4 "Wildflowers" (1994)
Produced by Rick Rubin, this was Tom Petty's second solo album, although most of the Heartbreakers played on it. After the mega-success of '93's "Greatest Hits" album and the dominance of its new singles "Mary Jane's Last Dance" and "Something in the Air" Petty changed labels in a secret deal and rode the momentum to sell 3-million copies of this new release. "You Don't Know how it Feels" was a #13 hit and the title track became a concert favorite.
#3 "Tom Petty and the Heartbreakers" (1976)
The beginning of the story – a bunch of transplants to L.A. collected around the bright light of a young hot shot songwriter on a mission from God. It took awhile for the songs from this album to connect enough for TP & the HB to grab a hold of a career, but a year after it came out, this debut album was moving out of the record racks coast to coast. Ironically, the earliest success came in England and then ricocheted back home across the Atlantic. "Breakdown" became Petty's first U.S. Top 40 hit in '77 and he was off running down that dream.
#2 "Damn the Torpedoes" (1979)
A make it or break it album for Tom Petty and the Heartbreakers after their sophomore effort didn't necessarily improve their commercial outlook. The purchase of the band's label by a bigger, more corporate fish, imposed new restrictions and expectations on Petty, who took on the new label in court. Balancing depositions with recording, the classic rocker's precipitous situation inspired some of his most memorable material – "Refugee," "Here Comes My Girl," "Even the Losers," and the band's first U.S. top ten hit "Don't Do Me Like That." Oh, by the way, Petty won the court case and got his own label!
#1 "Full Moon Fever" (1989)
Petty's first solo album without the Heartbreakers, but some of them appear on various tracks. Fellow Traveling Wilbury Jeff Lynne produced this effort, resulting in Petty's biggest seller, not counting the "Greatest Hits" collection. Talking about the Wilburys, George Harrison and Roy Orbison also appear as guests. With songs like "Free Fallin,' "I Won't Back Down," "Runnin' Down a Dream," and "Yer So Bad" how could this album miss? Petty's love of the Byrds' inspires a high-voltage cover of "Feel a Whole Lot Better" and even album tracks "Love is a Long Road," "Face in the Crowd" and "The Apartment Song" score. Petty didn't like "Zombie Zoo" much, which closes the album, but its goofy comic relief lightens this release much like "Obla-Di-Obla-Da" did on the 'White Album.' Oops – did we compare "Full Moon Fever" to the Beatles? I guess we just did.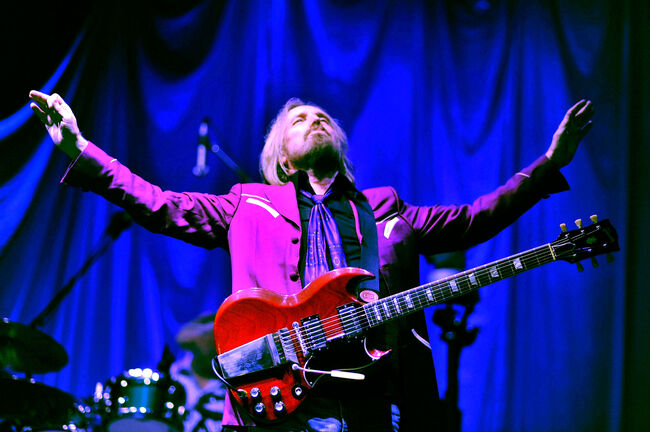 Carter Alan
Hear Carter Alan every weekday from 10am - 2pm on 100.7 WZLX.
Read more