Phil Collins' 1st North American Tour in 8 Years
Phil Collins launched the North American leg of his "I'm Not Dead Yet" tour in Sunrise, Florida on Friday October 5th in front of a rapturous crowd. This tour, Collins' first on this side of the Atlantic since 2010, is part of the Genesis and solo legend's world tour, which has already played two dozen dates in the U.K and 14 shows in South America this past February and March. Collins is taking it easy on this tour, leaving months between each leg to rest up due to lingering leg and back problems. After he completes his North American jaunt on October 28, he'll take off for the holidays and resume down under in Australia and New Zealand in January and February 2019.
The 67-year old sits down front and center for the entire show to sing a mostly solo-hit setlist with three Genesis songs sprinkled in: "Throwing it All Away," "Follow you, Follow Me," and "Invisible Touch." Phil Collins' son Nicholas is featured on the drums and a percussion solo section also includes Richie Garcia and Collins Senior. Longtime Genesis/Collins touring guitarist Daryl Stuermer returns as well as bass playing legend Leland Sklar.
Phil Collins plays Boston Garden tomorrow night October 9.
Sunrise, Florida October 5 Setlist (NOTE: Washington D.C. October 7 - same set list)
Against All Odds (Take a Look at Me Now)
Another Day in Paradise
I Missed Again
Hang in Long Enough
Throwing It All Away
Follow You Follow Me
Can't Turn Back the Years
Who Said I Would
Separate Lives
You'll Be in My Heart
Drum Trio
Something Happened on the Way to Heaven
You Know What I Mean
In the Air Tonight
You Can't Hurry Love
Dance Into the Light
Invisible Touch
Easy Lover
Sussudio
Encore:Take Me Home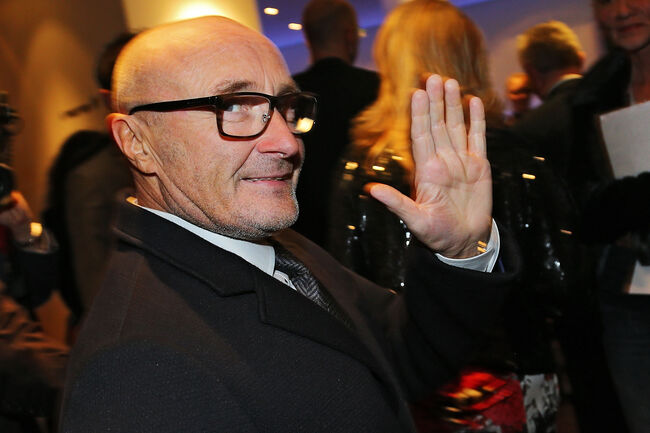 Carter Alan
Hear Carter Alan every weekday from 10am - 2pm on 100.7 WZLX.
Read more