Fleetwood Mac Unveil Six Surprises On New Tour
Spoiler alert! If you're going to see Fleetwood Mac on the band's 2018-2019 tour, and you want to be surprised at what the veteran band plays from its rich 50-year catalogue, then you may want to skip this article! The band has begun its latest concert trek with Lindsey Buckingham rather famously replaced with Mike Campbell, guitarist from Tom Petty & the Heartbreakers, and Tim Finn, former lead singer of Split Enz and Crowded House. The Fleetwood Mac setlist has been spiced up from the past few tours, introducing a few surprises. Here are six of those.
1. "Free Fallin'" - Stevie Nicks has commented that if she had ever left, or been fired from, Fleetwood Mac, the only other band she would have wanted to join would have been The Heartbreakers. Add to that the presence of Mike Campbell and the choice to cover a Tom Petty song as a tribute is a natural. That Nicks was a great friend to the late Petty, however, turns this tribute into a nightly emotional wellspring for the formidible singer.
2. "Black Magic Woman" - this was one of the biggest hits from the early 'British-blues' incarnation of Fleetwood Mac. Founding guitarist and vocalist Peter Green wrote the song and it was a Top 40 single in England all the way back in 1968. Returned to the setlist for the first time since the 70's, Stevie Nicks, the 'Gold Dust Woman,' becomes the 'Black Magic Woman' for a song.
3. "I Got You" and "Don't Dream It's Over" - Fans of 80's 'skinny-tie rock' and Alternative radio hits will tingle at hearing "I Got You," a masterpiece from Tim Finn's time in New Zealand's Split Enz. Later he'd join his brother Neil's band Crowded House and Mac also does that group's "Don't Dream Its Over."
4. "Oh Well" - another Peter Green original from the early days of Fleetwood Mac. The 1969 song inspired Led Zeppelin to adopt the quirky stop and start rhythm for their own 1971 hit "Black Dog." The track has been maintained through the years in the Mac's playlist, most notably upgraded by Lindsey Buckingham on the 1980 "Fleetwood Mac Live" album. Mike Campbell continues the tradition on guitar, but also sings the rocker.
5. "Hypnotized" - This 1973 Mac song became one of the group's biggest pre-Buckingham/Nicks hits in America, landing on FM radio coast to coast. The track, penned by guitarist Bob Welch, marked Fleetwood Mac's transition from blues band to mellow-rockers and its physical relocation from England to Southern California. This song has been absent from the band's repertoire since the 70's and Tim Finn sings the welcome revival.
6. "Tell Me All the Things You Do" - out of the rejuvenated lost classics on this tour, this might be the most obscure; only the most devoted Mac follower is even aware of it. Originally written and sung by early guitarist Danny Kirwan, the song appeared on the 1970 album "Kiln House," which featured Fleetwood Mac finding its course after losing the guiding influence of founder Peter Green. Bassist John McVie's wife Christine, already a British solo star, appeared on this album as a guest on vocals and piano before her official entry. This obscure track from the second side of the "Kiln House" record, is more jam than song, and is a treat to hear for Mac fanatics.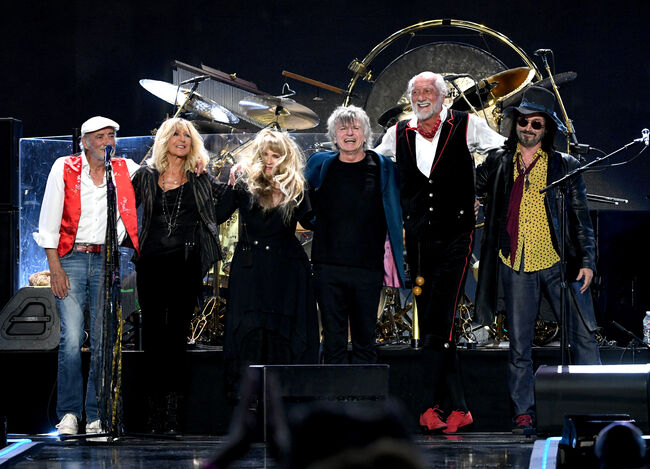 Carter Alan
Hear Carter Alan every weekday from 10am - 2pm on 100.7 WZLX.
Read more