Ann Wilson Talks New Solo Album, Heart's Future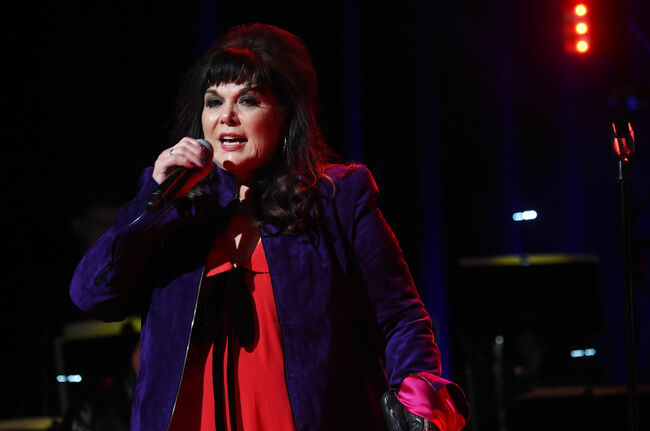 Carter Alan had the opportunity to interview Ann Wilson, who is putting her sabbatical from Heart to good use; she's just released a new solo album called "IMMORTAL." An album of covers by recently-departed musical inspirations, Wilson chose to arrange these songs in, sometimes radically, different style from the originals. She reasoned, "I always thought that if you listen the right way, the song will tell you what to do."
The songs run the gamut from Leslie Gore's "You Don't Own Me," which features some guitarwork from former Allman Brothers Band and current Gov't Mule guitarist Warren Haynes to Chris Cornell and Audioslave's "I Am the Highway," and The Eagles "Life in the Fast Lane."
Regarding Chris Cornell, Wilson mentioned that they were good aquaintances, "jammed together a lot and recorded together a little bit," and that she always regarded his artistic presence with great respect: "He was one of the most promising and powerful...and surprisingly super-talented people to come out of that [grunge] scene." The singer of Heart performs a slow burning version of "I Am the Highway" that also features her on flute.
Ann Wilson also keeps the doors open for a Heart reunion and commented on the widely-reported family feud which allegedly broke up her close relationship with sister Nancy and led to the Rock and Roll Hall of Fame group 's extended period of suspended animation.
"IMMORTAL" is out now and the album credits follow.
YOU DON'T OWN ME (Featuring Warren Haynes) Written by: John Madera and David WhiteI AM THE HIGHWAY Written by: Chris Cornell, Tom Morello, Tim Commorford, and Brad WilkLUNA (Featuring Warren Haynes) Written by: Tom Petty I'M AFRAID OF AMERICANS Written by: David Bowie and Brian EnoPOLITICIAN Written by: Jack Bruce and Pete Brown A THOUSAND KISSES DEEP (Featuring Ben Mink) Written by: Leonard Cohen and Sharon RobinsonLIFE IN THE FAST LANE Written by: Glenn Frey, Don Henley, and Joe WalshBACK TO BLACK (Featuring Ben Mink) Written by: Amy Winehouse and Nick RonsonTURN A DIFFERENT CORNER Written by: George MichaelBAKER STREET Written by: Gerry Rafferty
Produced by: Mike Flicker and Ann WilsonAnn Wilson: All vocals, acoustic guitar and flute on I Am The HighwayDenny Fongheiser: All drums and percussionDaniel Walker: All keyboardsAndy Stoller: All electric bassCraig Bartock: Electric & acoustic guitar on all songs and lead guitar on Baker StreetSpecial GuestsWarren Haynes: Electric guitar and lead guitar on Luna and You Don't Own Me Ben Mink: Electric violin on A Thousand Kisses Deep and Back To BlackRic Mark Markman: Upright bass on A Thousand Kisses DeepTim Pierce: Electric & acoustic guitar on all songsDoyle Bramhall II: Electric & lead guitar on PoliticianTyler Boley: Electric & lead guitar on PoliticianGeorge Doering: Acoustic 12 & 6 string guitar on I Am The Highway, Baker Street, and A Thousand Kisses Deep
"For these souls passed, for all souls present, these songs are shades of life, love, darkness and light. It is an honor to stand inside these expressions and make them mine for a moment. Listen, feel and dig them with me. Love and respect, -Ann

Carter Alan
Hear Carter Alan every weekday from 10am - 2pm on 100.7 WZLX.
Read more