Rolling Stones Tour Announcement Spectaculars
Rolling Stones Mick Jagger and Keith Richards may be 75 and 74 years old, respectively, but that doesn't deter the duo from doing what they love best – playing rock and roll. The pair announced plans for a U.S. continuation of their "No Filter" Tour, which will arrive in April and play 13 stadium dates, via a radio announcement and press release.
While this is what stateside Stones fans have been craving and what cynics will once again be decrying as four grown men who are too old to rock and roll, Jagger, Richards, Ron Wood, and granddaddy of them all - Charlie Watts, who is 77, will show up once again with a massive stage production that inevitably dazzles and sells out coast to coast.
But Jagger and Richards tour statement was decidedly underwhelming, by Rolling Stones standards. The group is fabulously famous for large, splashy, and memorable tour announcements, and this one was, well, pretty lame. Jagger and Richards merely checked in via a bad cell phone connection with barely a ripple of excitement.
Maybe after selling out 50,000-seat stadiums for most of their lives, it's all become humdrum to the pair. It's quite deflating, considering that the "No Filter" tour cleaned up overseas and the Rolling Stones are the third-highest grossing band on the road this year – behind Ed Sheeran and Bruno Mars. You'd think they'd be a little more excited.
Here's a brief history of the glory days of Rolling Stones tour announcement spectaculars.
1975 – FLATBED TRUCK SESSION. It began this year when the band sought to publicize its 1975 "Tour of the America" by scheduling a press conference at a hotel on 5th Avenue in Manhattan. While correspondents gathered, they heard excitement out on the street and turned to witness the band on the back of a flatbed truck jamming out on "Brown Sugar." The throng wheeled about and joined the surprised New Yorkers on the street as Jagger tossed out flyers announcing the upcoming North and South American assault which would, incidentally, introduce Ron Wood to the onstage lineup.
1989 – CABOOSE. Eight years earlier, after Jagger had attended a relatively uninspired Philadelphia press conference to announce 1981/82's tour, the pressure was on to create some hoopla over the band's first U.S. visit since. Suitably, the Rolling Stones showed up to announce the "Steel Wheels" tour and album at Grand Central Station in a caboose. While the band didn't perform, Jagger did use a boom box to play a bit of their new single "Mixed Emotions."
1994 – TOUR BOAT. The "Voodoo Lounge" tour was launched at a Pier 60 press event after the band took to the sea, journeying down the west side of Manhattan from 79th to 19th aboard a former Presidential yacht – the "Honey Fitz." Reportedly, no band members were seen tossing their tea and biscuits off the gunwales.
1997 – RED CADILLAC. The "Bridges to Babylon" tour of America was introduced to the media under the Brooklyn Bridge after the band cruised up in a red Cadillac convertible, Jagger at the wheel. Fortunately, the famous singer realized he was in America and drove on the correct side of the road. But who knew he could operate a vehicle anyway; doesn't he have a limo driver for that?
2002 – BLIMP. The Rolling Stones did not have an album of new material out for this American visit, but their tour was of enough importance to be announced at a press conference in New York after the band members arrived by blimp! The lips and tongue-festooned gasbag arrived a bit late and it was reported that a couple members of the Stones' entourage got a bit green from the bouncy ride. Nevertheless, this was nothing short of ground-breaking and impressive.
2005 – LIVE AT JULLIARD. For the first time since 1975, the main point of the announcement about the "Bigger Bang" tour was a live performance by the band. The Rolling Stones convened at Julliard School in New York City for a four on the floor (Jagger-Richards-Wood-Watts) set of three songs – "Start Me Up," "Oh No Not You Again," and "Brown Sugar" (sans horns and backup singers). The mini-show got even the most jaded reporters in attendance excited!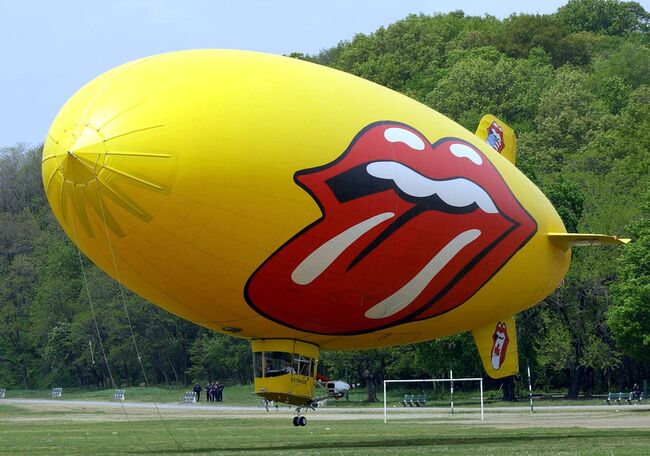 Carter Alan
Hear Carter Alan every weekday from 10am - 2pm on 100.7 WZLX.
Read more