Peter Frampton Top 5 (Not Counting Those Huge 3 Hits From "Comes Alive")
Happy Birthday this April 22 to veteran classic rocker Peter Frampton! The singer, songwriter, guitarist got his start as a teenager in the 60's in the U.K. pop band the Herd, before joining up with ex-Small Faces singer Steve Marriot to form Humble Pie. As that band achieved major Stateside success with its "Rockin' the Fillmore" album in 1971, Frampton left to go solo and hit big with his 5th album "Frampton Comes Alive" in 1976.
That live double record scored three Top 20 hits: "Show Me the Way" at #6, "Baby I Love Your Way" at #12, and a truncated version of "Do You Feel like We Do" at #10. Frampton can scarcely avoid any in that trifecta of monster singles at any concert since. But, excluding those, what would be Peter Frampton's Top 5, according to a total unscientific, but completely personal preference?
#5 "I Can't Stand it No More" (1979 WHERE I SHOULD BE album) This song is as bright and breezy a single as any Frampton wrote and, in fact, got to #14 on the U.S. chart three years after the live double humongous. Featuring longtime stalwart Bob Mayo (Bob Mayo!) on keyboards and Memphis session giants Steve Cropper and Duck Dunn, this entire album gets a B+
#4 "Black Hole Sun" (2006 FINGERPRINTS album) Okay, let's just agree that nothing can ever touch the original. That said, the Soundgarden classic redone as an instrumental with Frampton's signature talkbox thrown is is nothing short of mesmerizing. This came from Frampton's Grammy-Award winning instrumental album FINGERPRINTS featuring guests like Warren Haynes, and Rolling Stones Bill Wyman and Charlie Watts. "Black Hole Sun" features Pearl Jam's Mike McCready and Matt Cameron (who, as a member of Soundgarden, played on the original).
#3 "I Wanna Go the Sun" (1974 SOMETHIN'S HAPPENING" album) This song is from Frampton's third album and later reappeared more famously on COMES ALIVE. I like the studio original because it's got a much more homegrown flavor building as it is from Frampton's simple piano part (which he had to play in the studio when his keyboardist abruptly split). As the title suggests, this has an uplifting, cheery melody and is wound out to seven minutes for some nice extended guitar bits.
#2 "l'll Give You) Money" (1976 FRAMPTON COMES ALIVE album) Originally this track closed out the 1975 studio album FRAMPTON immediately prior to the live behemoth. But, as the guitarist's signature heavy-metal moment, "Money" benefits from the frame of in-concert acoustics, sending the slamming guitar riffs into a satisfying hard rock danger zone that the studio version could only partially attain. Turn it up!
#1 "Lines on My Face" (1976 FRAMPTON COMES ALIVE) Once again, the live setting and recording improve the initial 1973 recording presented on the second album FRAMPTON'S CAMEL. With a longer intro and dramatic pauses throughout, the concert hall enhances one of Frampton's best lyrics of heartache, while his black Gibson wails a cry of love.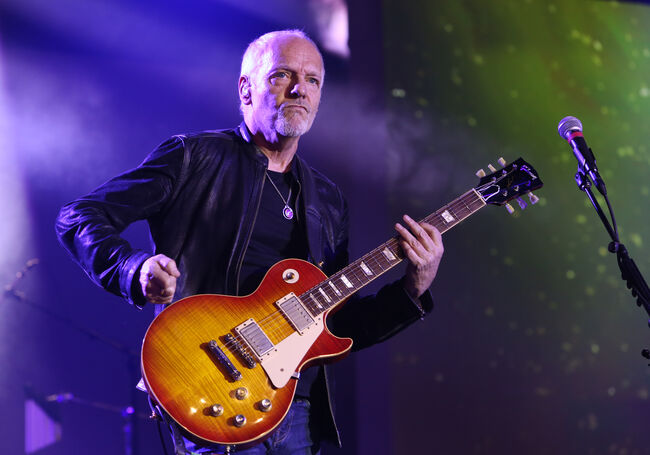 Carter Alan
Hear Carter Alan every weekday from 10am - 2pm on 100.7 WZLX.
Read more