Motley Crue's "The Dirt" First Published in 2001 Out On Audiobook June 25
Via Ultimate classic rock: Motley Crue's memoir "The Dirt: Confessions of the World's Most Notorious Rock Band" will finally be available as an audiobook nearly 20 years after it was published and only a few months following the film adaptation. Harper Audio and Dev Street Books will release it on June 25.
Even though the book is told as an oral history, band members didn't provide voices to the upcoming audiobook. Instead, the work is read by Sebastian York, Roger Wayne, Fred Berman, Macleod Andrews and Hillary Huber.
You can pre-order the book from any one of several audiobook sellers at Motley Crue's website, which also offers some exclusive "I Survived 'The Dirt'" merchandise as part of a special sale.
Co-written by Neil Strauss and originally released in 2001,The Dirt is an unapologetic tell-all by Tommy Lee, Nikki Sixx, Vince Neil, and Mick Mars, as well as others close to the band. They opened up about their then-two decades of sex, drugs and rock 'n' roll, complete with tales of in-fighting within their ranks. The book was a "New York Times" bestseller.
Back in April, band manager Allen Kovac said that one of the problems he had in shopping the book was that publishers feared its uncensored nature could lead to lawsuits, so the group indemnified the company. "The concept of the book was to find a book company that would let us tell a lot of story," Kovac said, recalling a meeting with one publisher. "I said, 'Have you ever had an artist sign that, once they gave the interview, they couldn't change anything?' And she said no." He then suggested that Strauss "take everyone's version and then we leave it as is, and see what a rock 'n' roll band really is, which is a train wreck."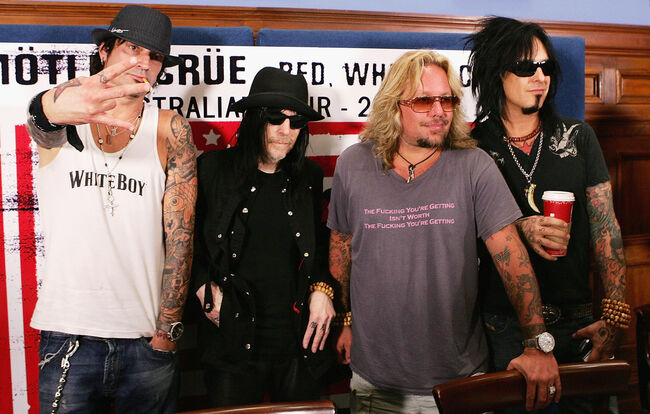 Carter Alan
Hear Carter Alan every weekday from 10am - 2pm on 100.7 WZLX.
Read more