Geddy Lee Is Coming To Boston!
Geddy Lee has announced on rush.com that he will resume promoting his 2018 book "Big Beautiful Book of Bass" with appearances in a half-dozen American cities this summer. Those book signings will include a visit to Brookline Booksmith on July 18th at 6:00pm.
Tickets are required and each includes one copy of Geddy Lee's book which he will sign and personalize. Brookline Booksmith explains on their website that he will not sign any other books or memorabilia and will not pose for photos. Because of the limited amount of time to greet an expected capacity crowd, the store will need to keep people moving. Photos taken while standing in line may be possible.
You can purchase tickets from this link: https://www.eventbrite.com/e/geddy-lee-book-signing-718-tickets-63565186183
Geddy Lee's book details 250 vintage and rare versions of bass guitars plus interviews with famous players including Led Zeppelin's John Paul Jones and Robert Trujillo of Metallica. The book also reveals the stories, songs, and history behind the instruments of his own collection. Complete with an index and timeline of the history of the bass, as well as an up-close look at Geddy's basses on Rush's final R40 Tour, his stage and recording gear from 1968 to 2017, and forewords by author and vintage guitar expert, Terry Foster, and Rush band member, Alex Lifeson, "Big Beautiful Book of Bass" is a must for Rush fanatics and anyone who loves the bass guitar.
Geddy Lee Book Signing Tour Dates:
July 14 -- Nashville, TN - The Basement East
July 15 -- St. Louis, MO - Left Bank Books
July 17 -- Chicago, IL - Barnes & Noble (Webster Ave.)
July 18 -- Boston, MA - Brookline Booksmith
July 19 -- Philadelphia, PA - Barnes & Noble
July 20 -- Atlanta, GA - Acapella Books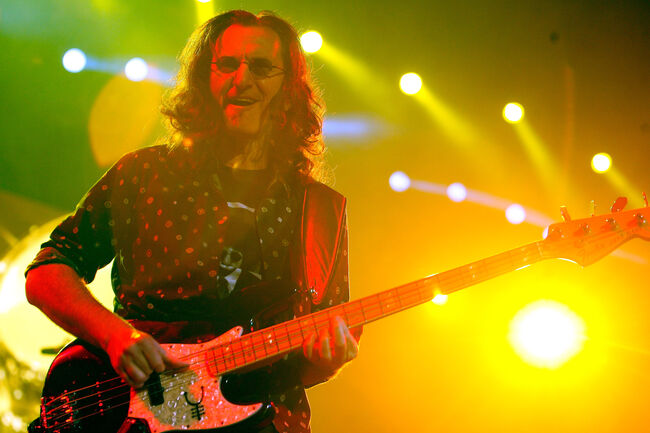 Carter Alan
Hear Carter Alan every weekday from 10am - 2pm on 100.7 WZLX
Read more