Heart's Long Awaited "Love Alive" Tour Opened in St. Louis Last Night
Heart kicked off their first tour in three years last night at the Hollywood Casino Amphitheater in St. Louis. The "Love Alive" Tour, which reunites Ann and Nancy Wilson onstage, is scheduled to cross America until mid-October.
The band opened the show with "Rockin' Heaven Down," a searing rocker from the "Bebe le Strange" album and ended 17 songs later with the band's 1987 #1 hit "Alone." In between, Heart played many of the hits and some unexpected cover choices including Pink Floyd's "Comfortably Numb" and "The Boxer," originally from Simon & Garfunkel. Not unexpected was a Led Zeppelin selection and the Wilson sisters complied with their terrific rendition of "The Battle of Evermore."
Heart had been on uncertain status since the 2016 incident in which Ann's husband struck one of Nancy's children backstage, fracturing relationships as family members were forced to choose sides. Eventually the rift was settled legally, but the personal issues took longer to heal, during which Ann and Nancy worked on solo projects.
The Heart tour arrives in New England on July 17th at the Xfinity Center in Mansfield, MA. Sheryl Crow and Elle King join the lineup for the show.
Here's last night's set list.
Heart, Hollywood Casino Amphitheater, St. Louis, 7/9/19
1. "Rockin' Heaven Down"
2. "Magic Man"
3. "Love Alive"
4. "Dog and Butterfly"
5. "Heard it Through the Grapevine"
6. "Straight On"
7. "The Boxer"
8. "Comfortably Numb"
9. "Back to Avalon"
10. "These Dreams"
11. "Your Move"
12. "Anguish"
13. "Mistral Wind"
14. "Crazy on You"
Encore
15. "Barracuda"
16. "What About Love"
17. "Alone"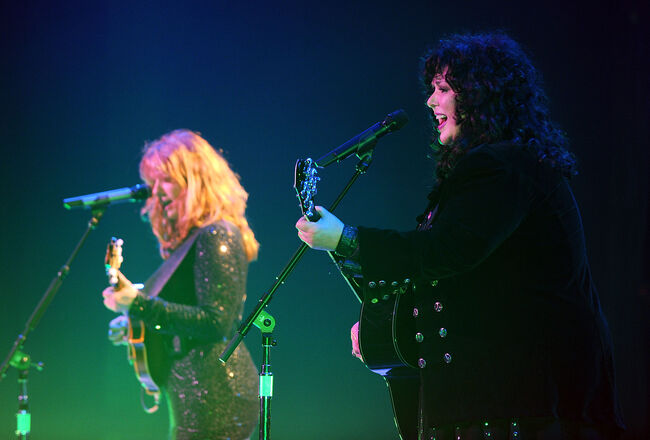 Carter Alan
Hear Carter Alan every weekday from 10am - 2pm on 100.7 WZLX.
Read more