Led Zeppelin's John Bonham Passed Away Sept. 25, 1980: His 10 Best Songs!
We lost Led Zeppelin drummer John Bonham on September 25, 1980 after an evening of rehearsals and a night of hard partying at Jimmy Page's home. The 32-year old had built up a vast tolerance to alcohol, but the bear of a man had consumed the equivalent of 40 shots of vodka and when he threw up in his sleep, he was unable to awake. Suffocation was the official cause of death, an incredible loss to the classic rock world and the death knell for one of its greatest bands.
In addition to being the explosive engine room of Led Zeppelin, John Bonham also contributed greatly to the band's songwriting process, helping to come up with more classics in an eleven-year career than most in a lifetime.
Here is a list of the Top Ten tracks that John Bonham co-wrote for Led Zeppelin. His estate will enjoy the 'ka-ching!' of royalties for decades to come!
#10 "Communication Breakdown" – 1969 LED ZEPPELIN
All the band members shared a co-writing credit on this full-bore shredder that tortured Jimmy Page's wrist every night he played it. Although Robert Plant contributed to this one, he was unable to get songwriting credit because of a previous publishing contract that was still in force.
#9 "Hey, Hey, What Can I Do?" – 1970 single B-side
This sordid tale of a faithless woman emerged from the LED ZEPPELIN III sessions but didn't get on the 1970 album. The band pulls out the acoustic instruments and basically busks in the studio. Co-written by all four.
#8 "The Ocean" – 1973 HOUSES OF THE HOLY
Co-written by all four, this rocker is introduced by Bonham: "We've done four already but now we're steady," then counts in to the opening crash. So, this could be Take 5 of the song which ended Led Zeppelin's most experimental album. Bonham's power is gleefully frightful as he powers into a final rave-up that screams 'get with it or get out of the way!'
#7 "Heartbreaker" – 1969 LED ZEPPELIN II
Segued on the record into "Livin' Lovin' Maid," which the band never did live, "Heartbreaker" on its own was a Led Zeppelin concert favorite. A reliable and chugging metal brontosaurus, "Heartbreaker" was built out of studio jams with an acclaimed Jimmy Page guitar solo recorded on a different occasion. Again, all four members get songwriting credits on this one.
#6 "Rock and Roll" – 1971 LED ZEPPELIN (IV)
A slice of 50's pie from the magnificent fourth album. This rocker emerged from a jam with Rolling Stones' piano player Ian Stewart as they worked off a Little Richard riff ingrained in the musicians' DNA since they all had acne. 3-chord heaven!
#5 "Good Times, Bad Times" – 1969 LED ZEPPELIN
The opening track to the Led Zeppelin canon was written by all four members, but again, Robert Plant was under contract to another publisher and so his contribution was not revealed. Financed entirely by Jimmy Page from his frequent session work, LED ZEPPELIN (1) took 30 hours to record. You got to love those bass drum triplets from Mr. Bonham!
#4 "When the Levee Breaks" – 1971 LED ZEPPELIN (IV)
The finale to the 4th, this turgid blues locomotive was co-written by all of the members and based on a 30's blues tune by Memphis Minnie. John Bonham's gigantic drum thump, recorded in the massive lobby of an English mansion, will rattle your fillings.The beat has been sampled and used in at least 200 songs.
#3 "Whole lotta Love" – 1969 LED ZEPPELIN II
Based loosely on a Willie Dixon blues song made popular by Muddy Waters, "Whole Lotta Love" featured a fat guitar riff invented by Jimmy Page with music and arrangements from everyone in the band. It became Led Zeppelin's breakthrough American hit and Bonham's powerful drumming throughout is complemented by those spacey cymbals in the central freakout section.
#2 "Kashmir" – 1975 PHYSICAL GRAFFITI
The four members of the band seem to agree that this song encapsulates the basic sound and vision of Led Zeppelin. Jimmy Page had the idea for this one originally and working with Bonham in the studio helped gel his exploratory ideas into a song. Subsequently Bonham received a writing credit with Page and Plant for his critical role.
#1 "Moby Dick" -1969 LED ZEPPELIN II
This one was written by Bonham-Jones-Page and not Plant because its an instrumental. Two instrumentals actually – one a Jimmy Page riff from the earliest days of the band which opens and closes a Bonham drum solo. Because it was Bonham's trip, it had to be #1! In concert, this one could go on for days….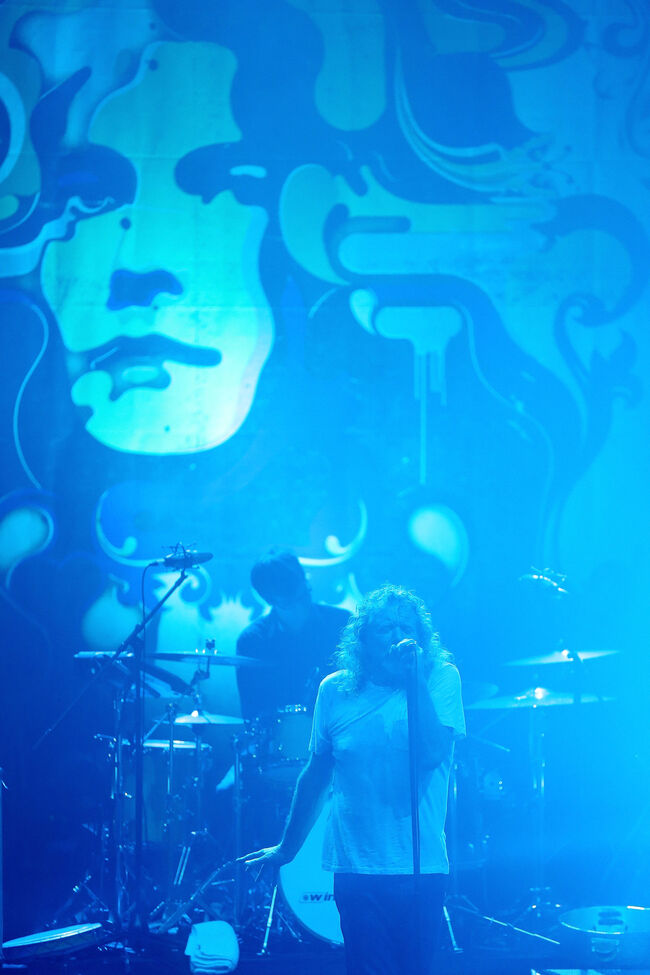 Carter Alan
Hear Carter Alan every weekday from 10am - 2pm on 100.7 WZLX.
Read more