Happy Birthday to Otherworldly-Axe Man, Steve Vai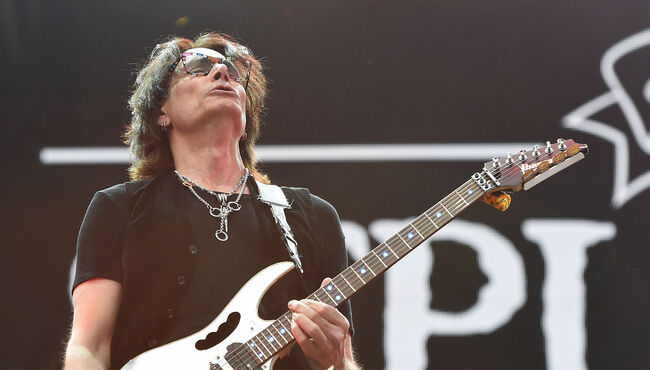 Each decade seems to produce a guitar innovator, pioneer and ultimate icon. Whether Les Paul in the '50's, Hendrix in the '60's, Page in the '70's, Van Halen in the '80's (fill in your favorites from each decade, right?) Steve Vai is no exception. He has continued to influence and inspire legions of guitar players with his incredible chops, songwriting sounds and style.
Vai says it was Jimmy Page's solo on "Heartbreaker" that ultimately led him to learn the guitar. In 1973, he began to take guitar lessons from fellow New York native Joe Satriani, and played in local bands. Then in 1978, while attending Boston's Berklee College of Music he got the attention of Frank Zappa by sending him transcriptions of his own music scores.Soon after, he joined Zappa's touring band in the early '80's. By 1984 he released his first, eclectic, instrumental guitar album Flex-Able. Vai had become a huge hit with the shred community but it wasn't until he got the gig with David Lee Roth (when Roth went solo in '85), that the guitar hero would have enormous, worldwide, commercial success. His work on Eat 'Em and Smile and Skyscraper still hold up as classics from that era. He left Roth around 1989, with his own, signature JEM777 guitar he had been developing with Ibanez and what would become his tour de force.
Passion and Warfare broke new ground and musical genres with its release in September of 1990. Vai had been writing and preparing this album for years prior and once described it as: "Jimi Hendrix meets Jesus Christ at a party that Ben Hur threw for Mel Blanc" . Other early '90's gigs included a brief stint in Whitesnake.
It seems like the man has never stopped working. His dossier includes eight studio albums, two EPs, eight live albums, twelve soundtracks, twenty compilation recordings. Vai has scored three Grammy Awards and forty other awards. His "Guest Appearance" is a career in itself: playing on over forty-four albums, with artists like Ozzy Osbourne, and Alice Cooper. In the late '90's he formed the G3 Tour with his old pals and fellow shredders, Satriani and Eric Johnson.
The clip below is Steve's major motion picture debut as the Devil's axe man, "Jack Butler" in the 1986 film Crossroads. It starred Ralph Macchio as a classically-trained, guitarist who has a yearning for the Blues but winds up in a "head-cuttin' duel" with Vai in order to save his buddies soul. Sure, Macchio "acted" the part ok, but it was the legendary Ry Cooder that supplied most of the soundtrack and blues tunes.

Kenny Young
Hear Kenny Young, weeknights starting at 7pm on Boston's Classic Rock - 100.7 WZLX!
Read more