AC/DC's Masterpiece is Unleashed-7/25/80
After the tragic death of front man Bon Scott in February 1980, the members of AC/DC, along with the Scott family's blessing decided the band would play on. Auditions were held for their next frontman and upon the recommendation from Producer Mutt Lange (and also a random fan from Cleveland), Brian Johnson got the gig. The story goes, he sang "Whole Lotta Rosie" and "Nutbush City Limits" (the Ike and Tina tune) to convince the Young Brothers, et al that the job should be his.
A few months go by as Angus and Malcolm continued writing, what would be the follow up to Highway To Hell. For seven weeks that Spring, AC/DC recorded at Compass Point Studios located in Nassau, Bahamas. Aside form learning to gel as band with their new singer, they had to face the challenges of Tropical Storms and numerous electrical issues during those sessions. Final mixes were done at the famed, Electric Lady Studios in NYC.
Finally, on July 25, 1980, Back in Black was released in the United States. The title, of course, payed homage to the death of Bon while telling the world they literally back to to take over the Rock world. "You Shook Me All Night Long" became the first AC/DC single to crack the U.S. Top 40, while over in the U.K. the album hit #1. AC/DC had become the first band since The Beatles to have four albums in the British 100 album charts at the same time. Highway to Hell, If You Want Blood, You've Got It and Let There Be Rock all re-entered the charts right after Back in Black was released. It would go on to catapult the Band to Rock god status and continues to inspire legions of musicians nearly 4 decades since its release.
To date, their penultimate masterpiece has sold over 22-million albums in the U.S. (#4-all time behind Led Zeppelin IV) and over 50-million copies worldwide.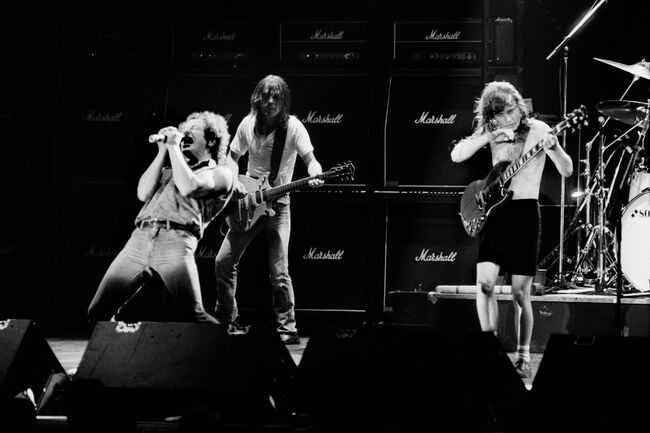 Photo credit: JEAN-CLAUDE COUTAUSSE/AFP/Getty Images

Kenny Young
Hear Kenny Young, weeknights starting at 7pm on Boston's Classic Rock - 100.7 WZLX!
Read more