Record Store Day 2018 - New Records Set!
Keith Caulfield in Billboard Magazine reported that this past April 21st, the 11th Annual Record Store day, was the biggest yet. According to Nielsen Music, which monitors sales, 733,000 vinyl albums were sold, industry-wide, in the U.S. in the week ending April 26. It was the 3rd-highest weekly total for vinyl albums since Nielsen began keeping track of sales in 1991.
The top-selling Record Store Day-exclusive album title was Bruce Springsteen's "Greatest Hits" album. This title was originally released in 1995, but the new version is on collectible red vinyl. Bruce was followed by David Bowie's "Welcome to the Blackout (Live London '78)" and #3 was Neil Young's "Roxy: Tonight's the Night Live."
The top-selling Record Store Day-exclusive single at indie stores was Led Zeppelin's double-sided 7-inch single "Friends"/"Rock and Roll" -- which also marked the band's first release for Record Store Day followed by David Bowie with the "Let's Dance" (Full Length Demo) on 12-inch vinyl.
Here are the Top 25 sellers in each category.
Vinyl Albums: 1. Bruce Springsteen, Greatest Hits 2. David Bowie, Welcome to the Blackout (Live London '78) 3. Neil Young, Roxy: Tonight's the Night Live 4. Rage Against the Machine, Live at the Democratic National Convention 2000 5. Bob Dylan & The Grateful Dead, Dylan & The Dead 6. Pink Floyd, The Piper at the Gates of Dawn (Mono) 7. Prince, 1999 8. The Cure, Mixed Up 9. Grateful Dead, Fillmore West, San Francisco, CA 2/27/69 10. Phish, Billy Breathes 11. Nas, Illmatic: Live From the Kennedy Center 12. The Doors, The Matrix Part II 13. Ramones, Sundragon Sessions 14. Madonna, Madonna (The First Album) 15. The Cure, Torn Down (Mixed Up Extra) 16. The National, Boxer Live in Brussels 17. The Rolling Stones, Their Satanic Majesties Request 18. Jerry Garcia, Run for the Roses 19. Soundgarden, A-Sides 20. Tom Waits, Bastards 21. Tom Waits, Brawlers 22. David Bowie, Bowie Now 23. Car Seat Headrest, Twin Fantasy (Mirror to Mirror) 24. Sublime, 89 Vision (EP) 25. Madonna, You Can Dance
Source: Nielsen Music for the week ending April 26, 2018
Singles: 1. Led Zeppelin, Friends/Rock and Roll 2. David Bowie, Let's Dance (Full Length Demo) 3. Sufjan Stevens, Mystery of Love 4. The Notorious B.I.G., Juicy 5. U2, Lights of Home 6. Jimi Hendrix, Mannish Boy/Trash Men 7. Fleet Foxes, Crack Up (Choral Version)/In the Morning (Live in Switzerland) 8 (Tie). Cheech & Chong, Up In Smoke (40th Anniversary) 8 (Tie). Run the Jewels, Stay Gold Collector's Edition 10. Descendents, Who We Are 11. The Police, Roxanne 12. Phoenix, Monologue 13. Brian Eno With Kevin Shields, The Weight of History + Only Once Away My Son 14. The Flaming Lips, The Story of Yum Yum and Dragon 15. Florence & The Machine, Sky Full of Song/New York Poem (For Polly) 16. Steven Wilson, How Big the Space 17. Def Leppard, Live at Abbey Road 18. Mac DeMarco/Shamir, Beat Happening Covers 19. The Regrettes/The Distillers, Side by Side 20. Czarface, Man's Worst Enemy 21. Dr. Dre, Dre Day 22. Quicksand, Triptych Continuum 23. Air, Sexy Boy 24. Elvis Costello, Someone Else's Heart 25. Courtney Barnett, City Looks Pretty/Sunday Roast
Source: Nielsen Music, for the week ending April 26, 2018.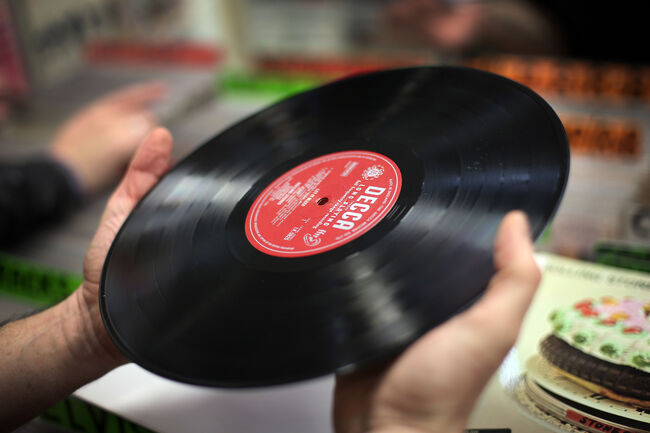 Carter Alan's Decibel Diaries
Every Sunday from 10PM-midnight, hang out with Carter Alan as he digs through the stories, interviews and music, for a peek behind the curtain of classic rock.
Read more