The Best Beer Catches By The Sox During The Parade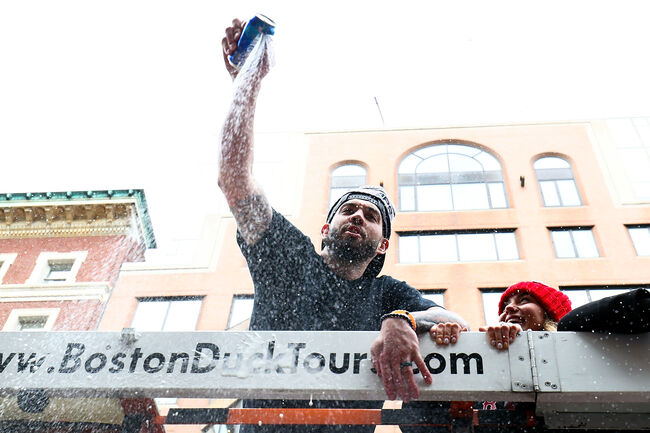 Via Boston.com. You can blame Gronk for this. Remember Gronk catching cans of beer, chugging them, and then spiking the empties into the pavement on Boylston St. during the New England Patriots parade?
Well, today it was raining beer cans on the Red Sox, with some players showing the amazing catching skills that got them the trophy, and other times with disastrous results.
Somebody threw a beer can that clanged off the World Series trophy, bending one of the flags. Then a 19 year old man from Sandwich was arrested for throwing a can that hit Alex Cora.
He told detectives, "I love Cora. I didn't mean to hit him." The skipper wasn't hurt, but the beer hurler was arraigned in Boston Municipal Court Wednesday afternoon on charges including assault and battery by means of a dangerous weapon, disorderly conduct, and being a minor in possession of alcohol.
Parade Beer Throwing Rules:
Always make eye contact with your intended target.
Make sure they have a hand outstretched to receive your sudsy offering.
Never throw a warm beer.
Here's some of the best beer catches by the Sox along the parade route.

Chuck Nowlin
Hear Chuck Nowlin weekdays from 2pm - 7pm on 100.7 WZLX.
Read more