Def Leppard Posts Cool Backstage Video From Hall Of Fame Induction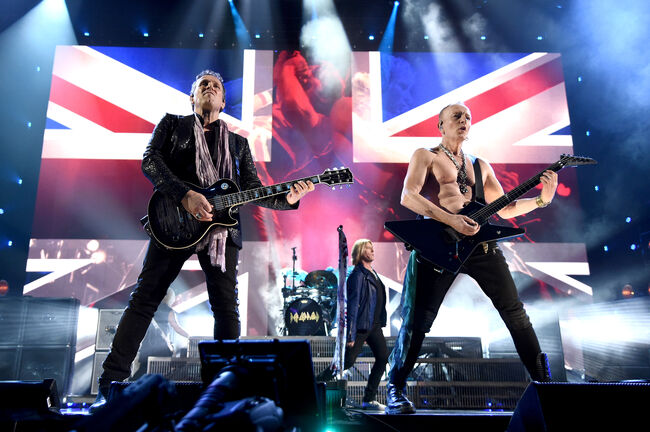 Friday night, Def Leppard was inducted into the Rock and Roll Hall of Fame at the Barclays Center in New York. Brian May did the honors and told a story about the first time he met the band backstage at a concert in 1981. He walked up to them and said, "Hi I'm Brian May of Queen," to which they replied, "No sh**."
According to Variety.com, He singled out singer Joe Elliott as one of his best friends and noted that when Leppard guitarist Steve Clark died of alcoholism-related illness in 1991, May was one of the first people to call Elliott, and that when Freddie Mercury died not long after, Elliott was the first to call him. Elliott gave a gracious and very well-written speech in which he gave considerable credit to the contributions from Clark as well as founding guitarist Pete Willis, producer-cowriter Mutt Lange and early managers Cliff Burnstein and Peter Mensch.
Yet the evening's most emotional moment came when he addressed the lows that have come with their spectacular highs: Clark's death, guitarist Vivian Campbell's ongoing battle with cancer, and drummer Rick Allen losing an arm in a 1984 car accident.
"Although there seemed to be a looming sense of tragedy around every corner, we just wouldn't let it in," he said. "It did seem that every time we made some musical headway, life would knock us back down somewhat. [The group's 1983 album] 'Pyromania' is a raging success, then Rick has a life changing accident. He survived it and came out the other side stronger."
Def Leppard posted this backstage video that captures the excitement of their big night.

Chuck Nowlin
Hear Chuck Nowlin weekdays from 2pm - 7pm on 100.7 WZLX.
Read more