Red Sox Home Opener To Celebrate Two Championships
Via boston.cbslocal.com. It can be tough living in Boston. Having to drive around the constant Championship Duckboat Parades can be frustrating. Between the Patriots, Red Sox, Bruins and Celtics, that's 12 traffic jams since 2000. The Boston Red Sox will unfurl a new banner and the players will get their jewelry during their home opener at Fenway Park this Tuesday, but they won't be the only championship team there.
"We have an exciting day coming up on Tuesday," team president Sam Kennedy said, "It has been a tough start to the season, but we're going to celebrate Boston championships on Tuesday. We've had a great tradition of celebrating and recognizing Boston teams and their championships, so we're excited to be celebrating two championships that took place." If you have a ticket, you get two for one! "We've invited the Patriots and we're ecstatic they're going to be there. It's going to be a great day," said Kennedy.
He wouldn't get into specifics for the ceremony, but it would be great to see the freshly retired Rob Gronkowski come out and steal TB12's jersey again! Although, he appears to be busy playing "Wolf Of Wall Street" with his girlfriend...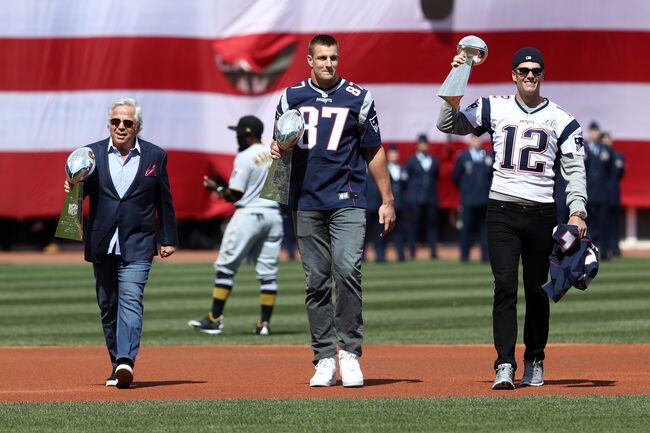 Chuck Nowlin
Hear Chuck Nowlin weekdays from 2pm - 7pm on 100.7 WZLX.
Read more