Aerosmith Opening Night In Vegas Highlights!
Aerosmith kicked off their sold-out Las Vegas residency, Deuces are Wild, Saturday night at the Park MGM Hotel's Park Theater. And Hollywoodreporter.com says we may be seeing the future of concerts. After you walk through a lobby of Aerosmith memorabilia, including the original touring van they pulled out of the woods of Central Mass., the show starts with a 30 minute retrospective of Aerosmith history with a lot of never before seen footage of the band. Grammy Award winning producer Giles Martin, who created the soundscape for The Beatles' "Love" byCirque Du Soleil in Las Vegas, took some of the band's classic music and material from recording sessions and remixed it for immersive sound at London's Abbey Road Studios. You watch it on 12 different screens that includes a 140 ft. x 40 ft. HD screen. It was produced by VFX house Pixomondo (whose work earned an Oscar for Hugo and was also behind the Game of Thrones dragons). Archival elements included everything from old photos to the animated Aerosmith appearance on The Simpsons.
The sound system is incredible! They use a live THX certified L-Acoustics' L-ISA immersive sound thanks to a partnership with THX and L-Acoustics. The object-based sound is mixed live during the performance and can support up to 96 individual objects (sound or musical elements) that can be played in 64 different directions. The 5,400-seat theater uses 230 speakers (for comparison, a typical stadium tour might use 40-50) positioned 360-degrees around the venue and across the ceiling, as with immersive sound in a cinema. It uses up to 300,000 watts of power.
The band ripped through Aerosmith favorites, while moving all around the theater. At one point Steven said he wanted to visit the f***ing nosebleeds and climbed a crane stairway right to them. "Train Kept A Rollin'," "Walk This Way," "Dream On," and "I Don't Want To Miss A Thing" from Armaggedon, which had to be a big moment for VIP Guest Dianne Warren who received an Oscar nomination for writing the song. Here's the set list:
1. "Train Kept 'A-Rollin"
2. "Mama Kin"
3. "Back in the Saddle"
4. "Kings and Queens"
5. "Sweet Emotion"
6. "Hangman Jury"
7. "Seasons of Wither"
8. "Stop Messin' Around" (Fleetwood Mac cover, Joe Perry on vocals)
9. "Cryin'"
10. "Livin on the Edge"
11. "I Don't Want to Miss a Thing"
12. "Love in an Elevator"
13. "Toys in the Attic"
14. "Dude (Looks Like a Lady)"
15. "Dream On"
16. "Walk This Way"
Check out some of the highlights...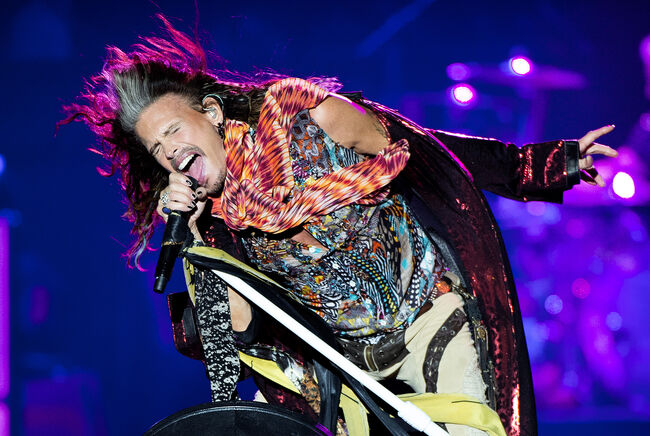 Chuck Nowlin
Hear Chuck Nowlin weekdays from 2pm - 7pm on 100.7 WZLX.
Read more