Bruce Springsteen Promises New E Street Band Album and 2020 Tour!
Via RollingStone.com. He was the King of Boadway for over a year performing 5 shows a week at The Walter Kerr Theater, he has a solo album, "Western Stars," coming out on June 14th, and now Bruce Springsteen is getting The E Street Band back together. In an interview with the Italian newspaper, La Repubblica, Bruce said, "We will go on tour next year," he said. "I'll record with the E Street Band in autumn and, when we are done, we'll go on tour. Of course I'll come to Rome. I love it."
On writing new songs for The E Street Band he said, "I've spent about seven years without writing anything for the band," Springsteen said. "I couldn't write anything for the band. And I said, 'Well, of course … you'll never be able to do that again!' And it's a trick every time you do it, you know? But it's a trick that, because of that fact that you can't explain, cannot be self-consciously duplicated. It has to come to you in inspiration."
And inspiration came suddenly, "It just came out of almost nowhere," he said. "And it was good, you know. I had about two weeks of those little daily visitations, and it was so nice. It makes you so happy. You go, 'Fuck, I'm not fucked, all right? There'll be another tour!"
Last time Bruce Springsteen and The E Street Band played here was Gillette Stadium in September of 2016 and he had to pay a $22,000 fine for breaking the 11pm curfew!
Bruce Springsteen's new album, "Western Stars," comes out June 14th.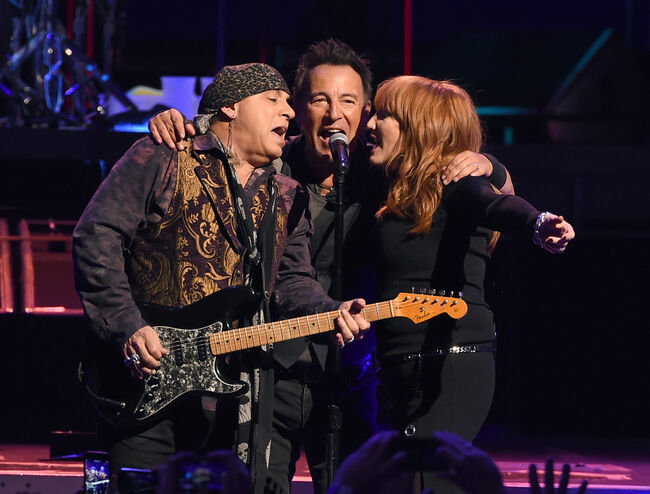 (Photo by Kevin Winter/Getty Images)

Chuck Nowlin
Hear Chuck Nowlin weekdays from 2pm - 7pm on 100.7 WZLX.
Read more