Harrison Ford Kick-Starts The Millenium Falcon At Disneyland Celebration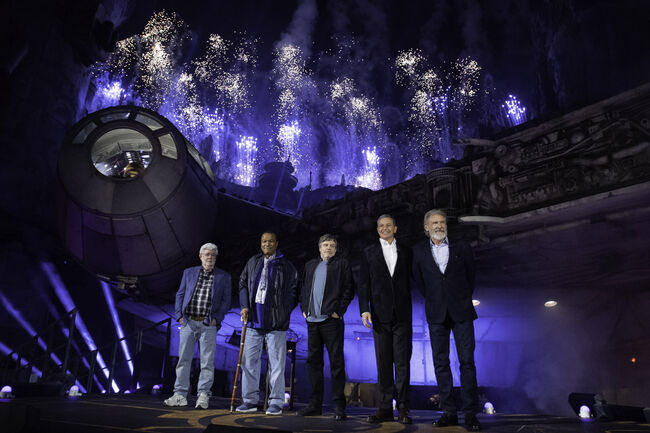 Last night was the big unveiling of the massive 14 acre Star Wars: Galaxy Edge attraction at Disneyland. Harrison Ford was there with fellow Star Wars originals Mark Hamill, Billy Dee Williams, and creator George Lucas. Sadly, Peter Mayhew who played Chewbacca, passed away last month but he was remembered by Han Solo in a heartwarming way.
The night started with Disney Chairman and CEO Bob Iger welcoming Mark, Billy, and George out on stage in front of the centerpiece of the attraction, The Millenium Falcon. As Chewbacca appeared in the cockpit, Iger called for the Millennium Falcon to fire its engines, but the old machine wouldn't turn over. Chewie roared in frustration, and Iger asked if anyone in the crowd knew how to fix it. Then a familiar voice boomed, "She may not look like much, but she's got it where it counts."
Harrison walked out to a cheering crowd, and as he gave the ship a whack he said, "Peter … This one's for you!" It's kinda cheesy, over produced, and the timing is off, but a very cool moment.
Check out the video...
(Photo by Richard Harbaugh/Disneyland Resort via Getty Images)

Chuck Nowlin
Hear Chuck Nowlin weekdays from 2pm - 7pm on 100.7 WZLX.
Read more